Sweet indulgence is now not only the ending moment of a memorable dining experience. At La Pâtisserie, sweet indulgence is served throughout the day with our newly introduced, exclusive selection of pastries and cakes.
Delight in a wide array of scones (both savoury and sweet), petit cakes, macarons and even relish in whole cakes with your loved ones during special celebrations. There is also a delightful selection of chocolates to choose from, available to take home in bespoke gift boxes.
You can also purchase home-made jams and cookies from La Pâtisserie. Our staff will be able to assist you to wrap them as gifts should you require the service. There is also an exquisite jewellery box which makes the perfect gift. An even more perfect gift is an exceptional hamper of a bottle of champagne, 25-piece and 9-piece chocolate box, 2 exquisite boxes of homemade cookies, a jug of assorted chocolates, delicate macaroons, a box of signature nougats and jam priced exclusively at SGD287+.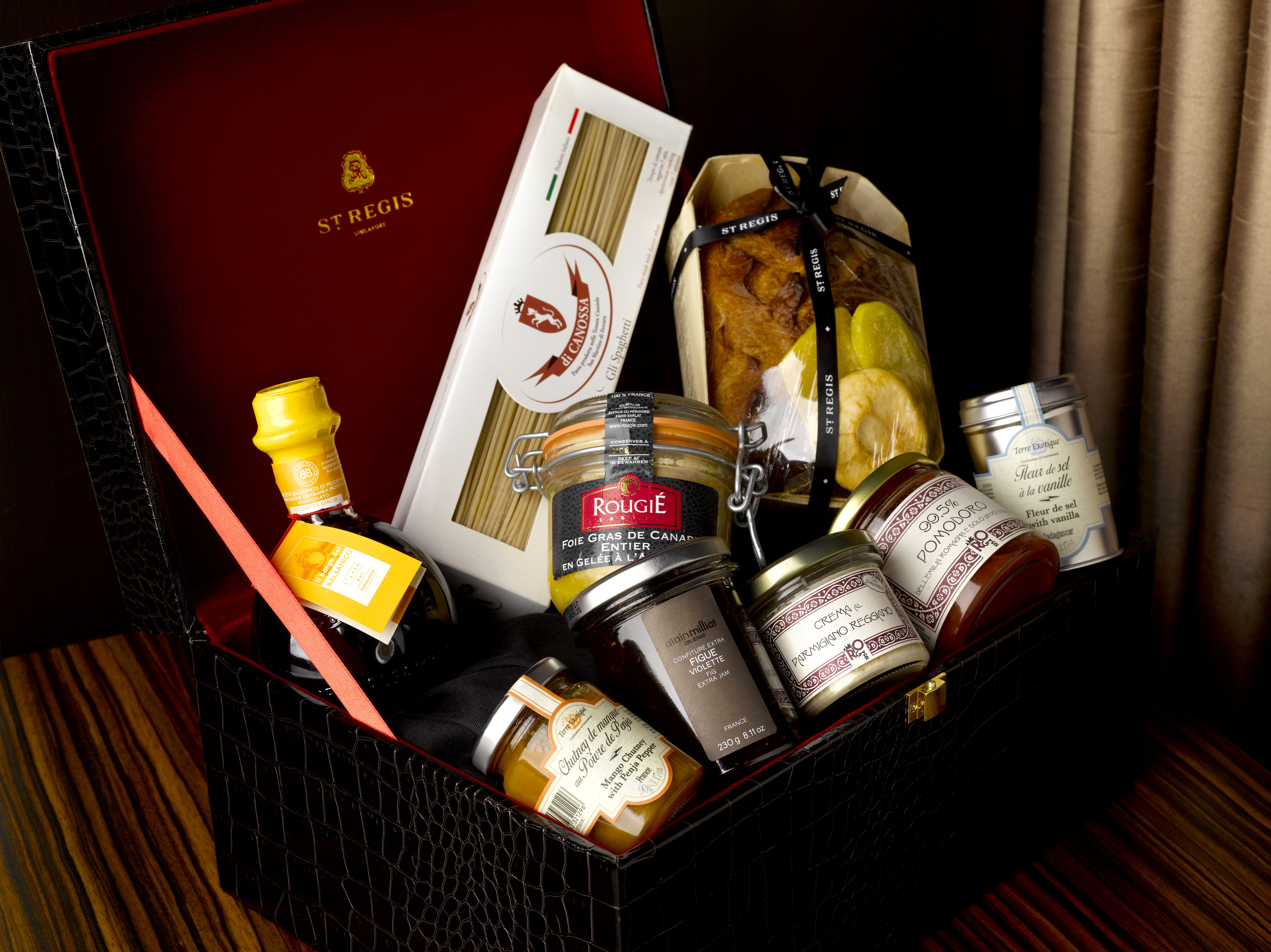 Perfect for the discerning gourmand and home cook, La Pâtisserie presents the Refined European Indulgence Hamper (SGD238+). Within is a selection of fine ingredients carefully sourced and curated by the St. Regis masterchefs, including Rougié Foie Gras, Madagascan Fleur de Sel with Vanilla, Mango Chutney with Penja Pepper, Pomodoro Sauce, Parmigiano Reggiano Cream, Fig Extra Jam, Spaghetti, Home-Made Brioche Loaf and Balsamic Vinegar.
Along with the ingredients are two recipes for crafting Spaghetti al Pomodoro and Foie Gras Terrine with Mango Chutney and Brioche – ideal for hosting an intimate gathering within the comforts of home.
An advance reservation of 2 days is required for the Refined European Indulgence Hamper.
Visit the La Pâtisserie today, located next to Brasserie Les Saveurs, and luxuriate in a sweet confection of culinary indulgence. Our team of St. Regis master pâtissiers changes the exclusive offerings daily. Call La Pâtisserie at +65.6506.6860 now for more information.
Breakfast (Daily)

6:30 AM - 10:30 AM

Lunch (Monday - Saturday)

12:00 NOON - 2:30 PM

Brunch (Sunday)

12:00 NOON - 3:00 PM

Afternoon Tea (Monday - Saturday)

3:00 PM - 5:00 PM

Afternoon Tea (Sunday)

4:00 PM - 6:00 PM

Dinner (Daily)

7:00 PM - 10:00 PM